Yesterday Bungie finally unveiled the next big step for Destiny 2, which as many were expecting – would ultimately be a full-fledged expansion, much like what we saw with Destiny 1 featuring "The Taken King" as well as "Rise of Iron." Destiny 2's first full expansion is entitled "Forsaken" and will once again take players back to the Reef – where you will partake on a brand new campaign that is centered around a new location entitled the Tangled Shore, while also having a heavy focus on the Awoken race.
Now, Destiny 2 Forsaken will include many of the bells and whistles that you would expect out of a big expansion, and more! New weapons, gear, increased level cap, missions, strikes, and raids are all on the way! Awesome right? Well, there's a lot more as well. Forsaken will also bring brand new sub-classes for each class, which means brand new supers and abilities as well!
Forsaken is also set to feature a very interesting new mode, which sort of blends strikes/raiding with PvP, it's called Gambit. In this new mode, two teams will face off again AI enemies and will ultimately have to take down a boss at the end. It's essentially a race to see which team can finish first, however with a twist. In Gambit, each team will be provided with an opportunity to send over one member from their own respective team over to their opponents team to try and cause some havic to slow down that given team from progressing – ultimately in hopes of scoring the win for your own team. You could consider it a sort of competitive Prison of Elders!
In addition to all of the new content which will be provided within Forsaken, Bungie will also be offering something called an "Annual Pass", which players can either buy separately or via a bundle with the Forsaken game. The annual pass will allow owners to immediately access some exclusive standalone content for the game such as new and returning exotics, new lore, armor, vanity weapons and more. The pass will also come with all three premium content releases that are planned for Fall 2018 – Summer 2019. Essentially, you are receiving a Season Pass that comes with a ton of extra goodies! The best part is the Forsaken DLC + Annual Pass bundle will only run you $69.99, with the standalone expansion being only $39.99.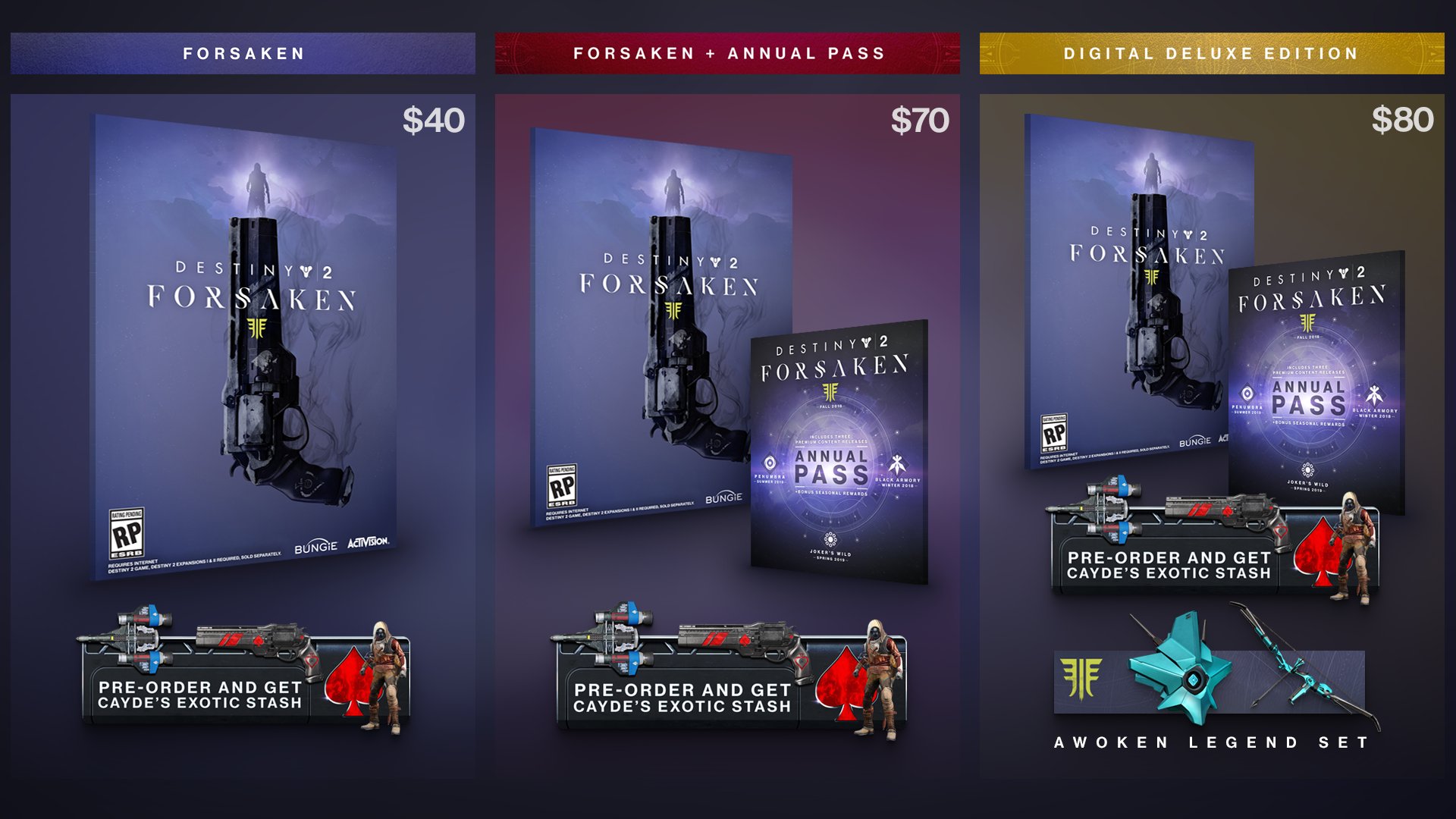 Personally, I am stoked for the first major expansion for Destiny 2. While I am also patiently awaiting more new PvP details, as I am primarily a PvP player – I am also very optimistic that this expansion is exactly what Bungie needed to help turn things around in their favor for Destiny 2, and so far the reaction seems to be proving that the game is readying to do just that.
Destiny 2: Forsaken arrives on PlayStation 4, Xbox One, and PC on September 4th.