Nintendo has recently announced some of their plans for E3 2018, something that was hinted by the company's own Bill Trinen late last month. While the announcement didn't really give us any insight into what new titles the company may be readying up to share with us during the event, we now have received even more confirmation that the new Super Smash Bros. title is set to play a huge role in the event, and will definitely be the company's primary focus.
First things first, the Splatoon 2 World Championship will kick off Nintendo's E3 2018 presence on June 11th from 3:30pm – 6:00pm PT, as the remaining teams in the WC will duke it out in the opening rounds, up until the final remaining teams are decided. The finals will be finished the following day, June 12th.
Also on June 12th, and probably most importantly will be the Nintendo E3 2018 video presentation, which will give viewers a look into upcoming Nintendo Switch titles for 2018 – and likely some TBA ones. The video presentation is also said to give fans the first ever look at the newly announced Super Smash Bros. title. The Video presentation is set to kick off on June 12th, at 9am PT.
Following the video presentation, and up until the final day of E3 2018, Nintendo will be holding their Treehouse Live event, where they will be demoing and discussing many of the newly announced titles from the show that are on the show floor for viewers at home to see – the Treehouse Live event has been revealed to start off with an in-depth look at the newly announced Super Smash Bros. title.
Last but not least, the company will be holding a Super Smash Bros. Invitational at the event – which will take place right after the Splatoon 2 World Championship finals on June 12th. While the official list of attendees for the invitational have yet to be announced, you can probably expect to see several current top Smash Bros players as well as Nintendo content creators duking it out against one another. Hopefully we get another "Hungry Box vs Reggie Fils Amie" runback.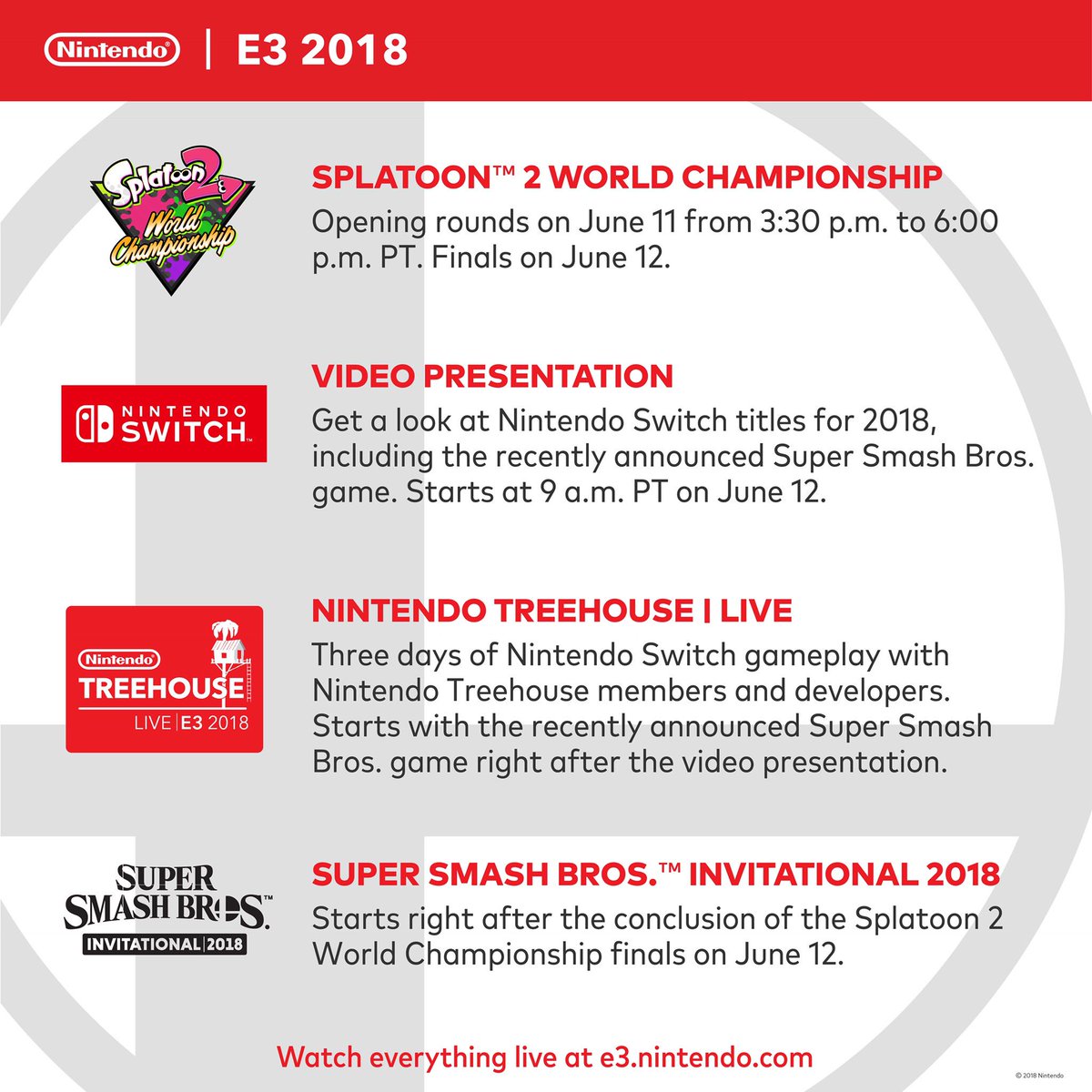 Overall, it looks like Nintendo is set to have another STACKED show this year, with last year's E3 presence as well as 2014's E3 presence being arguably their biggest in recent years. It's nice to see that they have some awesome content lined up for the entire week of E3, for everyone, really! My hype levels are at an all time high, and I'm sure yours are as well. Hopefully I can hold out through May.
All Nintendo E3 2018 content can be watched by visiting e3.Nitnendo.com