Recently, 343 Industries shook the video game industry and community alike once again, with news surrounding the latest addition to the Halo franchise – Halo Infinite. While this announcement came as a shock to many; it was, at the same time, met with understanding & acceptance – but also a degree of confusion. In case you may be out of the loop, it was very recently revealed that Halo Infinite would no longer be launching alongside the Xbox Series X this year, and no longer launching in 2020 in general. The title as a whole, has unfortunately been pushed to 2021 entirely. This news comes only a week or so after 343's previous announcement regarding Halo Infinite's Multiplayer being free at launch, for both Xbox Series X, as well as PC players alike.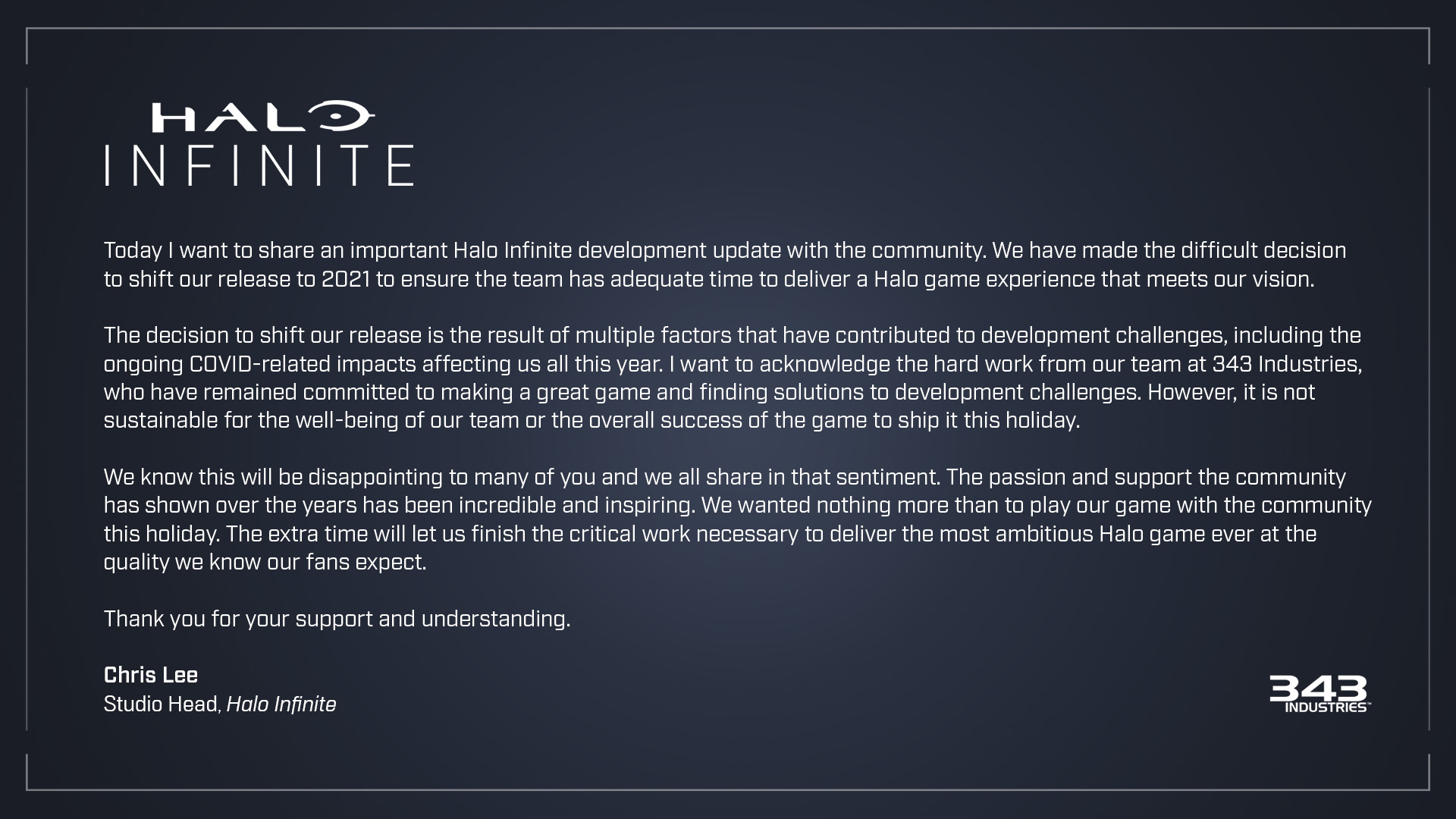 This has left many intentional early adopters of the Xbox Series X, a bit concerned in regards to the success of the consoles launch, as they have without a doubt just lost their biggest launch title, as well as one of the most highly anticipated video game titles of 2020. The announcement of a delay did not come without a wide array of understanding and supportive fans, however; as with the on-going global pandemic still impacting various industries as a whole, many projects within the gaming sphere have ultimately been pushed into 2021, or to an TBA time-frame as a whole. While we all yearn for our anticipated holiday titles to arrive on time, we also value the health and safety of the developers who are working hard to deliver these titles – so these sort of situations are for the best.
Before it's delay, Halo Infinite was also met with much fan criticism following it's game-play reveal earlier last month. As many fans felt the games visuals looked very unpolished, unfinished, and a step-back as a whole from what presentation titles on the Xbox Series X should be offering. While the developers had assured that the games visuals were still being worked on, and explained that the game-play that was shown was, in fact, very early development footage – this delay comes as a beacon of hope for those who may have been truly concerned about the overall presentation of Halo Infinite. A delay into 2021 should be more than sufficient time for the games overall presentation to be worked on, and for developers to show us their progress and how much the visuals have changed along the way – leading up until the launch of the game.
Hopping back to the launch of the Series X this upcoming Fall, the void that is now left has left many gamer's anxious as we still have yet to know what exactly will be available on launch, and what we won't be seeing until 2021, alongside with Halo Infinite. During the showcase last month, we learned of a few big first party titles Microsoft would be bringing to the table..eventually for the Series X, including a new Forza title which will be serving as a franchise reboot, as well as a new Fable game, which will also serve as a franchise reboot.
With both of these titles not even containing actual game-play footage within their respective reveal trailers; it's probably safe to assume that both of their launches are a way's off, with Fable likely to be a Holiday 2021 title, and Forza a Summer 2021 title. This would leave room for Halo Infinite as a Spring 2021 title, which is quite likely considering the game was initially to be ready within a couple of months. Now while a handful of other games currently slated to arrive on Xbox Series X this year; very few are in fact platform exclusives, and the few that are simply cannot hold-up to the hype and eyes that a 2020 Halo Infinite launch was consistently bringing to the platform. State of Decay 3, and CrossfireX are a few titles that early adopters of the console will likely pickup in hopes to fill the void that Halo Infinite will leave, but only time will tell if these games alone are enough to assure a successful launch for the console.
With many of the Xbox Series X titles still up in the air as far as release dates goes, this leaves one absolute that has a very strong chance at luring players to the upcoming platform this fall, as well as ensuring them a slew of games to keep them busy – until the big, likely 2021 titles arrive. That absolute is Xbox Game Pass. XGP has proved to be a huge success ever since it's debut, and has since been one of the most successful video game streaming/subscription platforms we've ever seen introduced. We know as of now that Microsoft's current plan for the service on the upcoming platform is to allow all Xbox One titles that do not require a Kinect function – to be playable on the new console. This is a huge promise and endeavor for fans, as even with the Xbox One, players had to wait YEARS before their favorite Xbox 360 titles were playable on the new platform, and with Microsoft promising all Xbox One Game Pass titles to be playable at launch, this ensures owners of the platform will have a wide array of titles to choose from and keep them busy.
While I believe Halo Infinite's delay will surely sway many gamer's from picking up a Series X on launch, perhaps even deciding to take the PC route this gaming generation; I also feel that Xbox Game Pass will really be the saving grace for the platform this Fall, as early adopters will not be forced to select from a thin selection of launch titles, but will also have an entire library of Xbox One titles to choose from via XGP as soon as the platform launches. The same cannot be said for the PlayStation 5, as far as a dedicated streaming service goes. While owners of the PS5 should be able to play their current PS4 software on the next-gen platform, the PlayStation platform still lacks a reliable service that allows users to download and install titles without the need of streaming them; but not only that, but also lacks to offer as wide of a variety that Xbox Game Pass offers. It's quite obvious that both sides will have their up's and down's this launch, but with a global pandemic's ripples still effecting the gaming industry, it's very hard to know for certain what will be available at launch, and what will ultimately be delayed. And despite Microsoft losing their biggest launch title for their console this year, I do feel the Series X will be "Okay" leading up into Spring 2021.